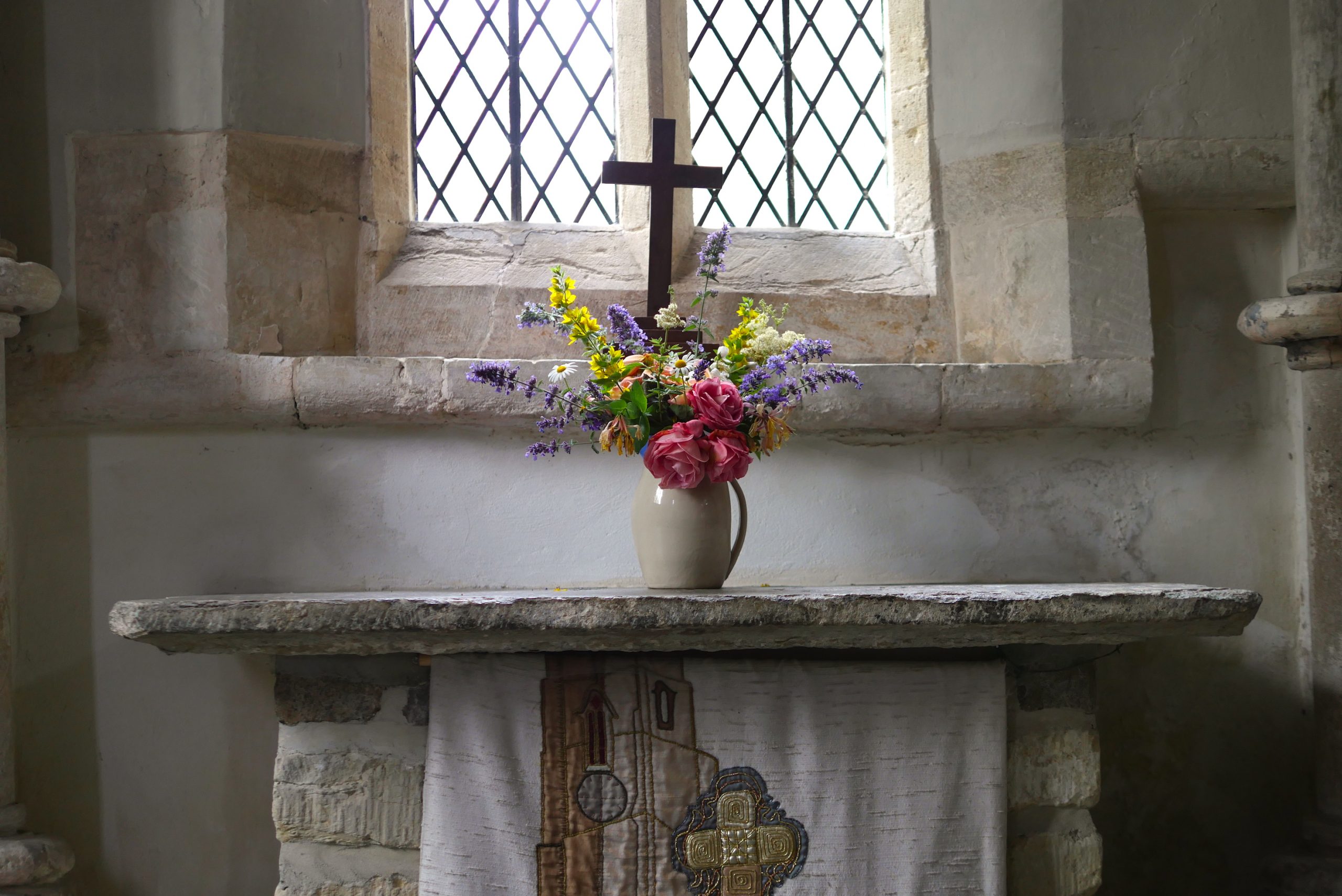 Photo credit: Sara Hudston
2021 SERVICES – The Church is open for collective worship.
Wonderfully, we shall be meeting face to face (or mask to mask) once again! Come and join us for worship and celebration at St Candida and Holy Cross. Thank you to everyone who has supported us over the last few months; we are very grateful.
October 2021
Sunday, 10th October, 11:00 am Eucharist led by Rev Chris Martin
HARVEST FESTIVAL
Saturday 16th October from 10.30a.m. We will be decorating the church. Any flowers, fruit and vegetables would be most welcome. Tea and coffee will be available to anyone who would like to join us or just come and sit in the church. Budding flower arrangers in the village would be most welcome to come and join us, no experience needed as we all muddle through.

Sunday, 17th October, 3:00 pm Harvest Festival Service led by Rev Ginny Luckett. We do hope you will be able to join us We will be donating food to the two local food banks Cupboard Love in Bridport and The Seaside Store (Coastal Community Cupboard) in Lyme Regis so will be very pleased if you could support these two valuable community projects. If you are unable to come to the service please drop donations into the church the week before the service.
Following the service at 4.00p.m. there will be a celebration of the contribution of long standing stalwarts of our church community with tea and cakes who have 'retired' just before or during Covid. Everyone will be very welcome to this special occasion.
Sunday, 24th October, 11:00 am, Eucharist led by Jim Pettifer
The church is open for visits Monday through Saturday from 10:00 am- 4:00 pm and Sunday from 12:30-4:00pm.
Please use the NHS app to register your visit to the church if you are able to do so. We would be very grateful if you could continue to use the red disc system (place a red disc found at the entrance where you have sat in the church so others may use a different location for their prayer), wear a mask, sanitise and please, please do not visit if you are suffering from symptoms of Covid-19.
Here are a few of the recent services prepared for the Golden Cap Team of Churches, our local Benefice. Please visit the Golden Cap Team of Churches YouTube Channel (link here) for all previously recorded services created during the COVID19 lockdown.
Please consider making a donation to support St Candida and Holy Cross.