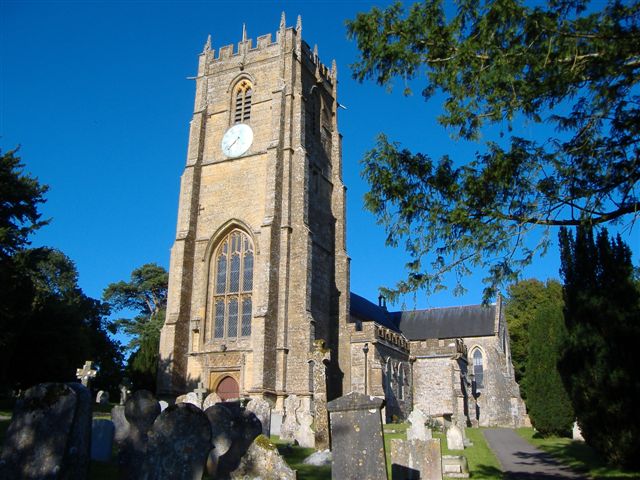 Saint Candida and Holy Cross – the church in Whitchurch Canonicorum, Dorset, England – welcomes you to this website
Having served the local community of Whitchurch Canonicorum in the Marshwood Vale for over a millennium, Saint Candida and Holy Cross (known locally as The Cathedral of the Vale) is a building with a wealth of religious and historical significance
St Candida and Holy Cross and the churches of Stanton St Gabriel in Morcombelake and St John the Baptist in Fishpond make up the parish of Whitchurch Canonicorum in the Salisbury Diocese. All three churches hold regular events and activities and serve their local communities as part of the Golden Cap Team Benefice.
St Candida and Holy Cross is now open Monday through Saturday from 10am to 4pm and Sundays from 12:30 to 4pm.
The church is in the centre of Whitchurch Canonicorum and is open for collective worship, with services and events as below:
Wednesday 14 September at 6pm
The Church of St Candida and Holy Cross, Whitchurch Canonicorum
There will be a special commemorative service marking the death of Her late Majesty Queen Elizabeth II this Wednesday in Whitchurch Canonicorum. The service will include special prayers, appropriate hymns, space for reflection and an opportunity to light candles. The same service will also be held at Lyme Regis Parish Church at 6pm on Thursday (15 September).
September 2022
Sunday 11th September at 11am: Morning Worship led by the Revd Lucyann Ashdown and James Ashdown
Sunday 18th September at 8am: Communion (Book of Common Prayer) led by the Revd Virginia Luckett
6pm: Choral Evensong led by the Revd Sarah Godfrey
Sunday 25th September at 11am: Communion and healing service led by the Revd Sarah Godfrey
Looking ahead
Sunday 9th October at 3pm: Harvest Festival led by the Revd Virginia Luckett. Followed by a 'thank you' tea
The Services page will also provide current information about services as they are confirmed.
Please use the hand sanitiser provided at the door when you enter the church.
Accessibility & Facilities: Please note that the church has a ramp at the West Door and toilet facilities inside.
If you have any queries please contact the Church.
Please consider making a donation to support St Candida and Holy Cross, the church at Whitchurch Canonicorum.
Photo by Sue Holmes